A Customer Control Assistive Device Based on Microcontroller-based Embedded System for COVID-19 Pandemic
Keywords:
AVR microcontroller, COVID-19, Customer limiting assistant, Infrared sensor, Micro servo motor, Social distancing
Abstract
The study discusses the impact of COVID-19 in our daily lives and how social distancing is an effective method to prevent the spread of the virus. The paper highlights the importance of maintaining social distancing in crowded areas such as retail shops, which are at high risk of COVID-19 spread. To ensure social distancing, retail shops usually hire an employee to limit the number of customers in the shop. However, hiring a human employee during the pandemic comes with many disadvantages as the employee is at high risk of getting infected with the virus. To address this issue, the study developed a customer control assistive device based on automatic voltage regulator (AVR) microcontroller-based embedded system designed to help detect the number of people entering a particular area while minimizing the use of manual assistance. This device consisted of infrared sensors to detect the head count who enter or exit from a premises, as well as auto hand sanitizer system based on sensor and micro servo motor before a visitor enters the premises. With this assistive device, retailers now can set the total number of customers allowed to enter their shop by simply key in the total number of customers allowed to enter. This feature helps retailers to ensure that the number of customers is always within safe ranges automatically to maintain social distancing.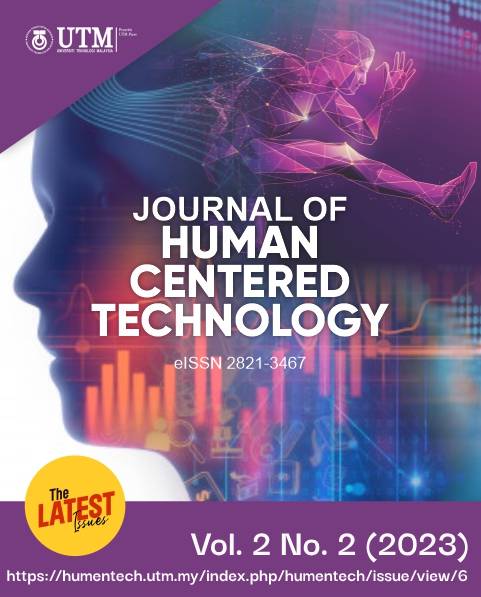 Downloads
How to Cite
Lim, J. X. Y., Nursyameera Athirah Aziz, Nur Farra Aisyah binti Nafrizam, Yvonne Wong Liang Liang, Ubaidur Rahman, A., & Hau, Y. W. (2023). A Customer Control Assistive Device Based on Microcontroller-based Embedded System for COVID-19 Pandemic. Journal of Human Centered Technology, 2(2), 60–69. https://doi.org/10.11113/humentech.v2n2.59